Ikea Designer's Passing Leaves Legacy of Functional, Multipurpose Furniture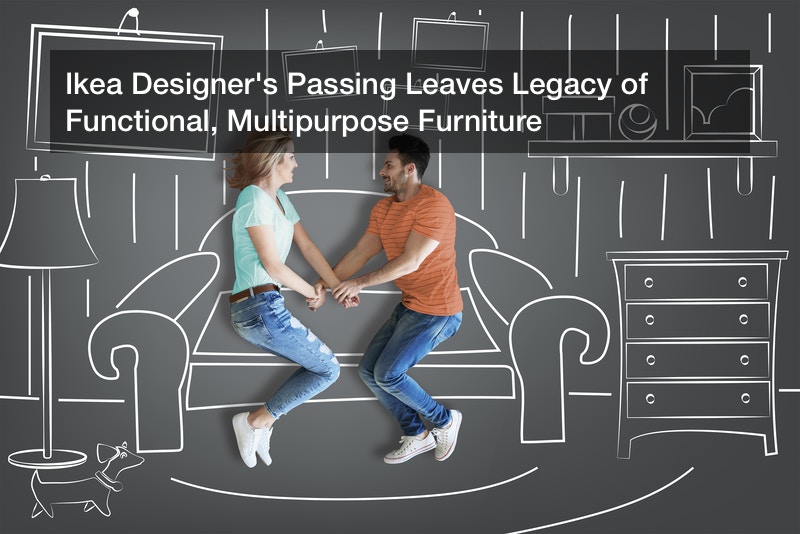 UPDATED 10/30/20
Having an idea to remove the legs from a table while still finding use for it may not seem like an amazing innovation, but the man who perfected this method will not be forgotten.
Gillis Lundgren, the man who designed the BILLY bookcase, passed away on Feb. 25 at the age of 86, according to Quartz. Lundgren was responsible for the design of over 200 pieces of IKEA furniture, and helped transform the customization of furniture.
By the "Billy's" 30th anniversary in 2009, the Swedish furniture maker had sold more than 41 million of the shelving units.
Lundgren's thought process when designing revolved around creating furniture that was "simple, practical and useful for everyone," he said when he won the Tenzing Prize in 2012.
"My design philosophy has always been that I design for the many people, I want to create solutions for everyday based on people's needs," Lundgren said.
More than anything, Lundgren's designs — along with those of many big names in the furniture world — are created with buyers' personalities in mind.
In a recent survey, nearly 73% of consumers agreed that the design of their furniture directly reflects their personality. The other 27% may not agree, but that doesn't mean their furniture doesn't mirror their personality at all.
Today's furniture designs also reflect personality in terms of their overall purpose and functionality.
Just like Lundgren's iconic shelves, othermultifunctional and multipurpose designs are hitting the market, according to the Las Vegas Review Journal. More people are shopping for new storage options, and these multifunctional pieces of furniture enable them to find creative ways to organize their homes.
The Murphy Cabinet Bed is a large cabinet that has enough space to store a television on top of it, that also can easily be pulled down into a queen-size bed. The beds boast features such as USB jacks and electrical outlets, which can be built into the sides and bottom of these cabinets.
The days of everyone having the same table and chairs are over. Whether it's a legless bookshelf or a device-ready bed, there is no doubt that more Americans are looking to see reflections of themselves when they choose their next furniture pieces.
The Swedish giant has been well known for its creation of multipurpose furniture Ikea. The company sells a lot of furniture that can be used in many different rooms and spaces. Ikea strives to be a place to buy affordable designer furniture.
Known as the best furniture store, here are 3 great ways to hack your Ikea products.
1. Home work station
Using a shelving unit from the stationary section add a pull-out keyboard under the shelf that best suits your height. The pull out keyword shelf will allow you to set a chair under your shelving unit.
2. Craft storage 
Using the VARIERA Plastic Bag Dispenser you can create wrapping paper holders that look great in any space.
3. Plant Holder
If you search a home store near me you are bound to see Ikea pop up in your area. Purchase the Fintrop rail normally used for bathroom designs and set it up in your office or living space with simple hanging baskets to give you more space.
There are many ways to use multipurpose furniture at Ikea. As one of the top affordable home decor brands on the market Ikea has many options for creative minds.
More Topics:
15 space saving furniture ideas for your home, bed on the wall ikea, bedroom packages ikea, bedroom storage furniture ikea, bedroom suites for small rooms, best dresser for small room, compact bedroom furniture, cozy furniture for small spaces, does ikea have bedroom sets, dual function furniture, gray bedroom furniture ikea, ikea 205 35, ikea apartment sofa, ikea bed and desk, ikea bed end tables, ikea bed frame with nightstand, ikea bedroom closet furniture, ikea bedroom furniture storage, ikea brimnes collection, ikea convertible, ikea folding desk table.